March 12th, 2006 by Susannah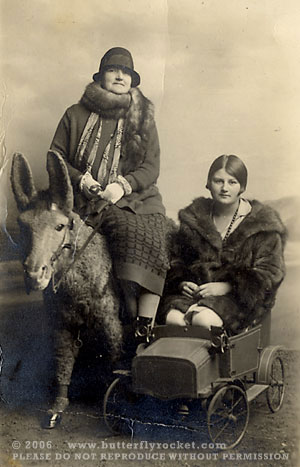 Featured Gem 4
Real Photo Postcard
'Mother and Daughter'
Date: Unspecified
People: Unidentified
Postcard Back: Blank
Notes: Oh how I love this image despite it being a little creased and battered. Something about it makes me smile.
How on earth did it come about? I can imagine a mother and her daughter going along to the photo studio wanting a lovely family portrait and the photographer somehow convincing them that it would be a good idea to include the fake donkey and the car.
Look at their expressions. The daughter looks so uncomfortable perched in the little car, her hands awkwardly in her lap. The body language is fantastic!
And what is going on with the donkey's ankles?
I wonder what the rest of the family had to say when they saw this photo? I wonder if they ever sent the postcard to anyone?
I love it!