Sunday, October 28th, 2007 by Susannah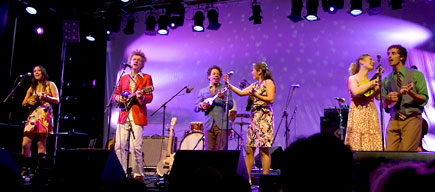 For the second year in a row we headed off to catch Dan Zanes and Friends at the Melbourne International Arts Festival. Wow! It lived up to all my expectations! We've been listening to the back catalogue of CD's all year and the whole family has fallen in love with them.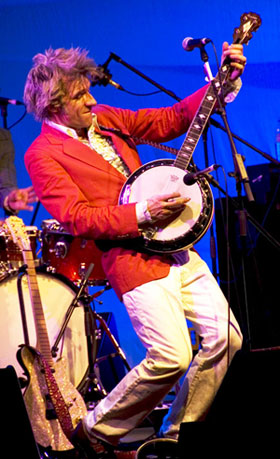 My folks came down from Sydney to join us and we attended 3 shows in total. (The photos are from the final show on Sunday October 14th). The first event was the opening night at Federation Square, which was unfortunately accompanied by lovely rainy Melbourne weather. Eloise enjoyed the afternoon soundcheck and then dancing in the rain at the 6pm show. My Dad was absolutely thrilled at the opportunity to hear Dan's rendition of Boonaroo.
For the weekend shows The Arts House Meat Market proved to be an awesome venue. I was a little apprehensive as the venue last year was so small and intimate, but my fears were quickly rested. It is an impressive space and the ambiance was immediate. As always Eloise enjoyed herself immensely. She insisted she take her uke (which Dan kindly signed after the show) and was adamant she wear her DZ Tee…..a Christmas pressie last year.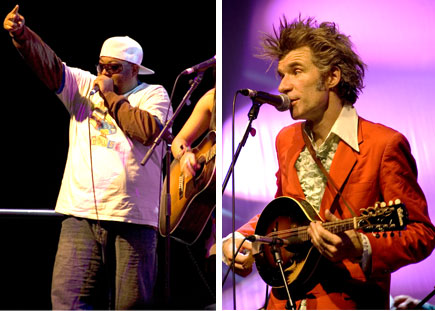 Dan was joined on stage by Father Goose (much to Miss E's delight!), Sonia De Los Santos, Colin Brooks, John Foti, Saskia Sunshine Lane and Elena Moon Park. Such a formidable lineup of talented musicians, a real thrill to hear live. Like last year, Dan and the rest of the band were extremely generous with their time and stayed after the shows to chat to the audience and sign CDs.
It was an enjoyable and memorable experience for the entire family!
(photos © Rohan Durrant)