Saturday, September 16th, 2006 by Susannah
Unearthed last week a small collection of mostly haberdashery! An old wooden shadow box, vintage piggy bank, half a dozen old spools of coloured ric-rac, a couple of metres of sturdy pink polka dot fabric, button sample cards, old fancy dress 'Bear' paper pattern by Weigel's and a hand glazed cup (signed 'Pam' underneath!)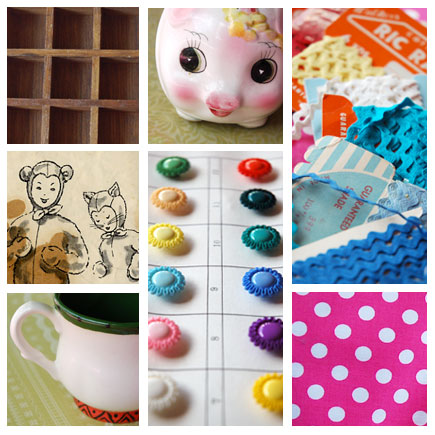 I think the shadow box was intended for displaying thimbles (it is not a printers tray although it looks similar to one in the photo). I'm going to paint it up and create a collage in it. It's quite small 5 x 6 2.5cm boxes. So a nice size for a project and not that old, so I don't feel I am 'destroying' anything valuable.
I love the vintage piggy bank. It reminds me of a bigger one my Mum has saved from her childhood. This one is tiny, about the size of a tennis ball. It's made even more special by 'Katoomba' written on it's top! Having grown up in the Blue Mountains I have found myself collecting vintage tourism memorabillia of the area by default. So…cute piggy AND nostalgic piece!
But wait…I am not done yet….look look look!!!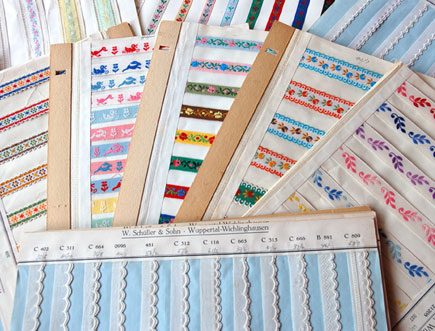 More vintage trim!!! I trekked back to my local antique store where I originally found this vintage trim and they had more!!! LOTS more!! 20 old sales sample cards from W Schuller & Sohn. And just when I thought it couldn't get any better, I found 8 old sales sample button cards. 195 individual button designs in total, by Goko Trading Company (Osaka, Japan)