March 7th, 2006 by Susannah
My folks have been visiting from interstate this week and today we set off on a thrift store adventure and trekked to a few of my favourite vintage item and ephemera haunts. We all have a passion for collecting things so days like this are great fun. We had a lovely day looking for treasures and drinking lots of coffee!
I have been obsessed with reading craft orientated blogs of late (current must reads: SouleMama, Turkey Feathers, LoobyLu and Angry Chicken) and have found myself drawn to the haberdashery and linen departments of various thrift stores. I've always collected fabrics, buttons and the like for my collages, but it has been too long since I cranked up the machine or picked up the knitting needles and I am really yearning to get sewing and crafting again!
I am not sure if having my daughter is inspiring me to make 'softies', sew toddler clothes and become a domestic cupcake baking queen but there is definitely something brewing and I like it!
Among the items I could not resist:
These two vintage pattern books. Turabast 'Swiss Straw' by Myart and 'Fuzzy Wuzzy Fashions' (Patons knitting book No. 749) Now I can't see myself making a fuzzy wuzzy bonnet anytime soon (just imagine wearing THAT up to the shops?) but the swiss straw bags are brilliant!
I also found a bag of upholtsery fabric containing about 30 large squares from a sales sample book in lovely bright colours. It is such lovely quality and was an absolute steal at a dollar for the whole bag! Hmmm… cushion covers, bags or softies. I then discovered three sheets of Beutron Buttons also from a sales folder, each containing forty buttons in wonderful earthy natural shades and several different styles and sizes. A few seventies Simplicity toddler sewing patterns for 'pinnies and slacks' also found their way into my shopping basket.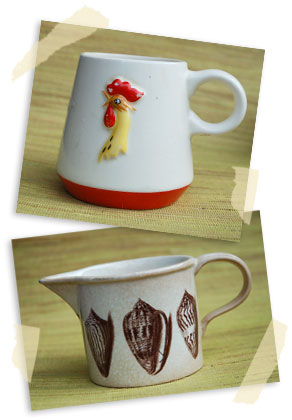 I always look at the crockery and kitchenalia. I like to use little items as display pieces, vases and pot plants, vessels for knick-nacks, pens and pencils. I found this 1960 chook mug by Holt Howard. I love the shape and colour. I also discovered a wonderful little jug decorated with shell illustrations. It has no markings on it and I have no idea how old it is but it looks quite weathered. It's all textured and crazed with age which I LOVE.
Eloise also lucked out. I found a great toddler swing for outside and a huge basket full of colourful wooden blocks.