Friday, January 1st, 2010 by Susannah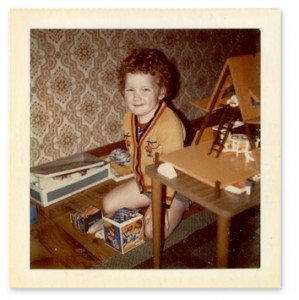 December 25th 1976. I was 3. This was the Christmas I received the 'Sally and Sue' orange A-Frame lake house complete with motor boat and log campfire. Oh how I loved this doll house! It was sold at a garage sale when I was in highschool and wasn't really thinking about having girls of my own to pass it on to. I have never ever seen one again and can't even find reference to it online anywhere. Where are you Sally and Sue?
This was also about the time I have a very clear memory of walking near the Glenbrook Lagoon and a lady telling my Mum what a "lovely little boy" I was. It's funny what you remember. And I remember feeling rather mad!