March 24th, 2006 by Susannah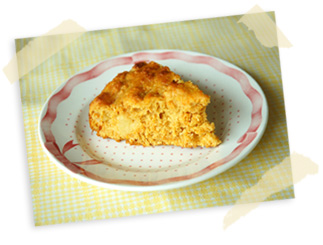 It's been a very strange and unsettling week, and as a result I am feeling so behind in everything. Yesterday I felt the need to cheer us all up, so I decided to bake a cake! I was fully in 'domestic goddess' mode yesterday—not sure what was with that!
Miss Eloise has a dairy allergy so I have to do a bit of creative cooking (yes no cheese and no chocolate *gasp*!!). I have been finding many good cake and cookie recipes for those with special dietary needs on VegWeb. My first non-dairy cake attempt was her first birthday cake in December which I must admit was a deeeeelicious chocolate and raspberry cake topped with mauve coloured icing. Last night's Pineapple and Carrot Cake has both fruit and veg in it, so it's lulled us into believing it's healthier.
Pineapple and Carrot Cake
1 1/2 cups wholemeal self raising flour
1/2 cup sugar
1 cup finely grated carrot
3/4 cup pineapple pieces with juice
1 tspn cinnamon
1 tspn vanilla
3/4 cup apple sauce
2 eggs
In a large mixing bowl, combine all ingredients. Mix well. Bake at 180 C for 30 minutes or until cooked through. NB: Would be perfect with cream cheese frosting, but I didn't have the ingredients to do a dairy free version. Next time I might try and get rid of the sugar by upping the fruit…