April 4th, 2006 by Susannah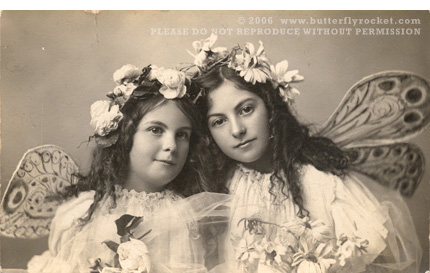 Featured Gem 5
Real Photo Postcard
'Wings and Flowers'
Date: Unspecified
People pictured: Unidentified
Postcard Back: Foyle's Photo Card — Studios, Liebig St Warnambool (unused)

Notes: I was beside myself with excitement when I spotted this treasure in a cabinet at my local antique store. Usually photographs of girls dressed up with fairy wings are beyond my budget, but here this one sat waiting, in a pile of old postcards priced for a song. I couldn't wait to get it out of there for fear they'd say they'd made a mistake! There were many images of fairy girls reproduced in the masses early last century, but this one appears to be a personal portrait, not reproduced for sale, which makes it even more special.

I do also appreciate the backs of old postcards and this one is nice and decorative. I collect a lot of cards just for their typographic design. Other times it is for the postmark or the handwritten message, another dying art in today's electronic world. Call me crazy but I also find the foxing of paper visually appealing and a great texture to add to my digital collage work.
Unfortunately I don't have any information about the girls. I wonder if they are sisters? Most likely I am guessing. I love the flowers and ringlets…but the wings are the best bit!