May 1st, 2006 by Susannah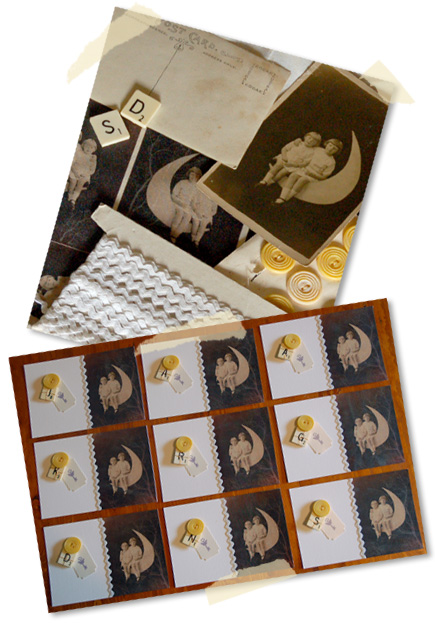 I finally sent off my postcards for a swap initiated by Nikki-Shell. I procrastinated about this for weeks and I was hit with some pretty ferocious stage fright. This is my first official group blog swap! There were no themes or rules except that it had to be handmade.
Ingredients: 2 vintage postcards, a handful of vintage buttons, an old spool of rick rack, inkjet T-shirt transfer sheets, calico, thin copper wire, scrabble tiles, a tag punch, various card stock and some acid free glue.
I used the image from an old postcard, purchased from a lovely lady in the UK. It only arrived last week and I was itching to use it immediately. I confess, I am in love with vintage paper moon photographs. I only own two, so not quite a collection just yet! I scanned it in and did a few tiny adjustments including adding a subtle background using a selection of my own background textures and some brilliant brushes created by Jason Gaylor (initially discovered via Dooce, but reminded about them by a recent Craftapalooza entry).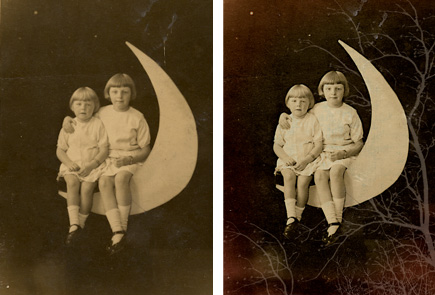 I then printed the image onto T-shirt transfer paper and ironed it onto some calico. I like the HP transfer sheets as they give a soft matte painterly effect.
I had a few near disasters along the way. Glue everywhere, curling postcards, buckling, puckering transfers (I have a love hate relationship with glue. I am not a particularly neat crafter and I'm also impatient!). I also personalised each card by using a scrabble tile that corresponded with the swap participants initial. I then of course panicked that I'd posted the card with the wrong scrabble tile to the wrong person so please let me know if this is indeed the case!
Aside from all of the above, I really did enjoy getting my creative teeth stuck into something! It's inspired me and I am really happy with the results. Fingers crossed they all arrive at their destinations in one piece!
{click here to see the FRONT of the postcard}
{click here to see the BACK of the postcard}