July 1st, 2006 by Susannah
It's cloudy and bleak outside, actually it's so dark I have had to put the light on even though it's daytime. The leaves have long fallen from the trees and the air smells like open fires (ooo I wish we had one of these!). Rohan has rugged Eloise up and taken her down to the park and I am sitting back all toasty and warm with a coffee, and going through some of my latest treasures. Wow…there are lots…a lot more than I had thought…oh dear…I think I have another problem!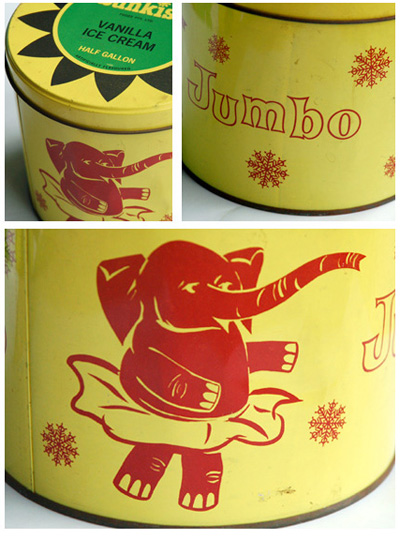 I have always loved op-shopping but lately my addiction has leapt to new heights as I find myself wandering into my local thrift store with alarming frequency. The sign does say '1000's of new items arriving daily' and indeed it's true! It's like a different shop every day so the temptation is huge! Too rainy to go to the park? Too 'can't be bothered' to sit in a cafe trying to keep Eloise still long enough for me to finish a coffee? Well lets go spend an hour in Savers playing peek-a-boo up and down the aisles and maybe a treasure will jump out at me while we're at it!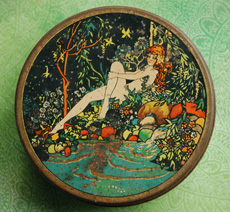 I can't walk past a good looking tin if I see one! The colours, the illustration and the size of the old Sunkist Ice Cream tin above make it perfect for display and for storage. Left is another gorgeous tin. Yes it's battered and weathered, but for me that adds to it's charm.
I also found these two small plates (for 99c a piece!). They're designed by Kathie Winkle for Broadhurst. The top one is from the series called 'October' and the bottom one is called 'Olympus'. I am not sure what I'm going to do with them yet….but there was something about the graphic hand painted looking leafy patterns that I could not resist.
I don't often find fabric in good usable sizes, but these two pieces below are huge! I have also come across a lot of vintage buttons lately. This is just a random handful. The ice cream tin above is full to the brim of vintage buttons to sort through.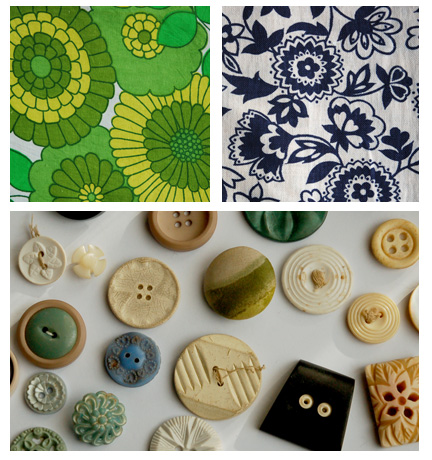 More show and tell to come. The family is home from the park, new 'pet rock' and all!