Thursday, November 19th, 2009 by Susannah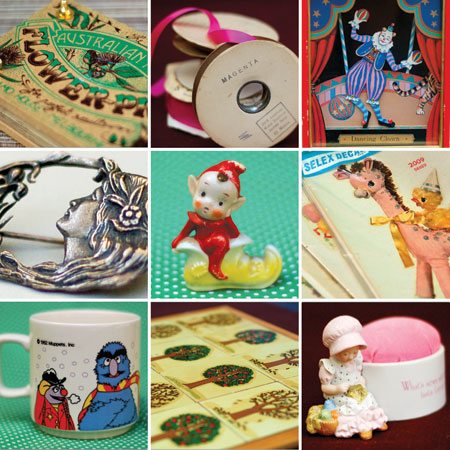 I've been having fun op-shopping lately and discovered many little treasures aside from the usual stash of clothes and toys for the girls. Click below for a closer look!
top row:
Australian Native Flower Press (Dynamo House Melbourne). I have been meaning to get a new one for a while. This is brand new and a decent size! I think Eloise will be out the front looking for four leaf clovers to press very soon; five rolls of Florist ribbon in pinks (perfect for decorating all the fairy themed birthdays coming up!). I like the type 'Magenta' on the reel in the photo…there is another one that says 'Dusty Rose'; Ikecho Japanese Dancing Clown music box. He dances to the 'French Can Can'!!
middle row:
Silver brooch; a little pixie ceramic ornament. Looks very fifties and he's small and sweet; six different vintage Selex decals. Love them and too scared to use them in case they don't work!
bottom row:
1982 Muppets/Sesame Street ceramic mug. This 'Winter' mug matches an 'Autumn' one I have that must have been from the same series; gorgeous wooden tree puzzle; bisque porcelain Holly Hobbie pin cushion "What's sewn with love lasts forever"