Tuesday, January 16th, 2007 by Susannah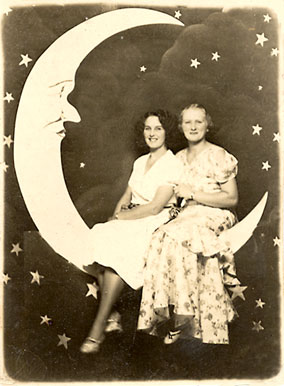 Featured Gem 10
Real Photo Postcard
'Friends on the Moon'
Date: Unspecified
People: Unidentified
Studio: Unidentified
Postcard Back: Blank
(has been trimmed )

Notes: I once read that if you have three or more of anything you have a 'collection'. So it's official, I now have a collection of vintage paper moon images (well okay I have three!). Rummaging through a box of old photos in an antique store, I came across this gem.
It's a shame there are no details on the back! I wonder if they're friends or sisters. Where they at an event or a fun fair? Their dresses and shoes are fabulous!
This style of image was often shot in portable photographic studios at carnivals and fairs, so they're often not the best quality — sometimes out of focus and so on. I think that this adds to their charm. The one of the two ladies in hats (below left) says on the back: "Whitney Bros 'Electric Postcard Studio' Souvenir, Bendigo Easter Fair, 1913. Australia". The faces are a little out of focus and there are scuff marks from swinging feet below the moon…but it's a special piece of history.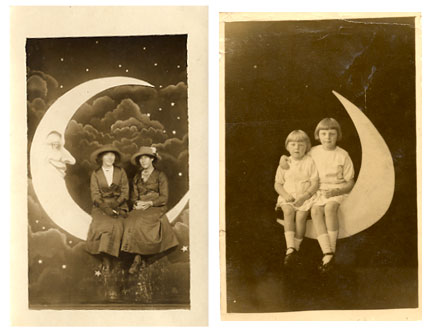 NB: I have had some feedback regarding the copyright attribution of the vintage photographs on my website. All of the digital files are copyrighted to me and have been taken from original images in my collection. Please feel free to get in touch if you'd like to inquire about image licensing or obtaining larger image files. The watermarks were put in place because of some previous issues with image theft. I am temporarily trialling the copyright information below the large clickable image file only, so that the images can be enjoyed watermark free. Please don't spoil it for everyone else by reproducing the image elsewhere.