October 2nd, 2006 by Susannah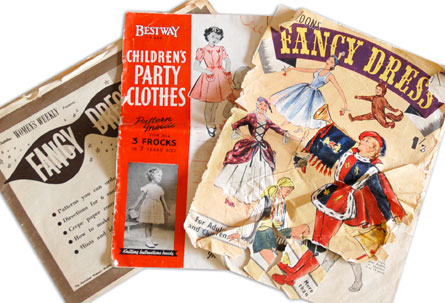 Ohhhhh how excited was I when I found these in amongst the patterns in my local op-shop!?? Those of you who are familiar with my blog are probably aware by now that I love collecting vintage imagery of fancy dress costumes (like this)…so yes…I was just a wee bit giddy to find three vintage fancy dress guides! The 'Weldon's Fancy Dress' is a bit tattered and I think it's missing a few pages…but for 60c I don't care! Just look inside…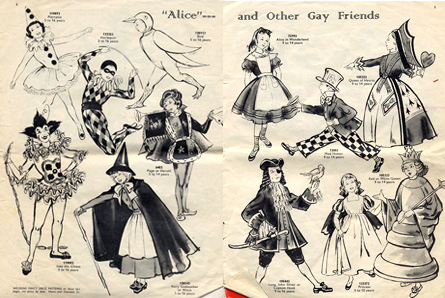 I did buy a lot of sewing patterns as well, including some great Weigel's patterns (they have the best illustrations on the front) and various craft orientated patterns including dolls, doll clothes, Christmas crafts and Easter crafts. I also scored an Enid Gilchrist 'Toddler Clothes' pattern book!
During September I collected the books below from various op-shops. Some for their ideas/content and some for the illustrations.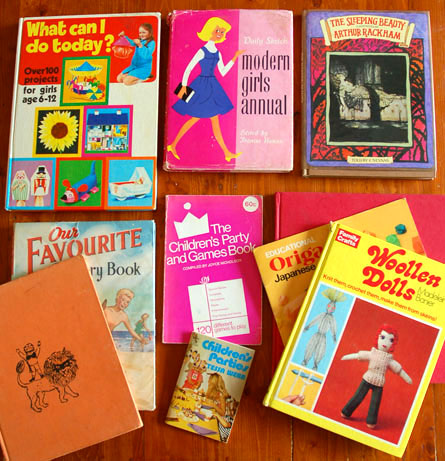 'What Can I Do Today?' by Linda Nichol, 1973. 'Over 100 projects for girls 6-12'
'Daily Sketch Modern Girls Annual' with articles such as 'Breeding Budgerigars for Pocket-Money'!
'The Sleeping Beauty' Illustrated by Arthur Rackham, Told by C.S.Evans. (New edition 1987. Original edition 1920) Gorgeous silhouette illustrations.
'Our Favourite Story Book' 1940s or 50s. Illos such as this and the price tag made it find it's way into my basket…
'May I Bring a Friend' (orange cover/no dust jacket) by de Regniers/Montresor 1964. Lovely graphic black line illustrations and strong flat colour.
'The Children's Party and Games Book' compiled by Joyce Nicholson, 1979.
'Children's Parties' by Tessa Webb, 1973
'Educational Origami' (no imprint/publisher/details available) Very simple graphic instructions.
'Colourcraft', 1976 (red cover, no dust jacket) — Various crafts including pet rocks, fabric painting and other decorative ideas .
'Woollen Dolls' by Madeleine Banier, 1974. 'Knit them, crochet them, make them from skeins!' This amused me, as did the 'wedding dress'!
More September Thrift Challenge to follow…