Monday, December 18th, 2006 by Susannah
Instead of joining in on NaBloPoMo I didn't post once during November…in all honesty that wasn't my intention! I have had to keep telling myself 'the blog is for me' 'don't stress' 'it's meant to be fun!' to try and ease my anxiety over not posting. I am just not very good at short quick diary like snippets of interest!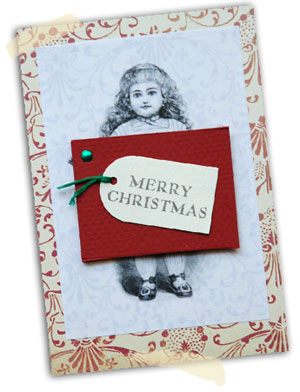 I did complete my Christmas Postcard Swap, and although 10 of these cards are winging their way around the world I fear some may not arrive at their destinations in time. I am crossing my fingers and toes! I have a good excuse though….I had a little drama and I decided it was the perfect time of year to get my wisdom teeth yanked out in the hospital….really NOT NOT good and I still cannot feel my chin over 2 weeks later! (Is that normal? It is driving me a little crazy!)
I don't think the photos do the postcard justice as you can't see the subtleties and textures in the papers. The doll is printed on some translucent paper and she is holding a little book attached with a split pin that contains five pages of vintage Christmas snippets from my collection of greeting cards and photos. I love the sentiments in the old style verses.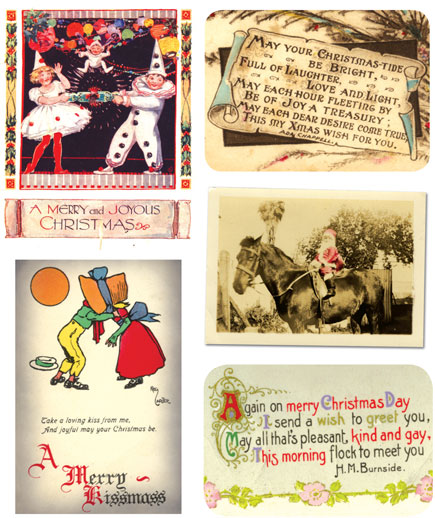 I unearthed an interesting book in my local secondhand bookshop the week the postcard sign up was announced, so I have had 'vintage cards' on my mind for months! It's a fascinating book called 'The History of the Christmas Card' by George Buday and was first published in 1954 by Spring Books.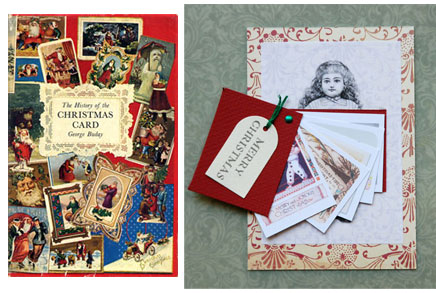 That's it for tonight! I may not have been blogging but I have still been thrifting so I will post about some of my favourite finds over the next few days. I also want to share some of the gorgeous swaps that I have received including the most delicious bundle of goodies from the lovely and talented Pyglet who must be very close to giving birth!! Thinking of you Dani and thank you so much for the unexpected treats!