February 9th, 2006 by Susannah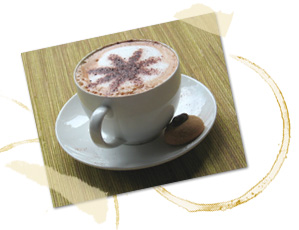 OK, so to a true 'coffee geek' this would be all wrong. But it's just the way I like it including the addition of some extra indulgence (currently sipping 'Swoon'). I admit, my 'milk frothing' abilities still need a little fine tuning and my coffee 'art' is a bit skewiff. But hey, give me a break and let me have my espresso fun!
It's raining here and I am taking a little moment to ponder my next move. The whirlwind that is Eloise has a cold so has been particularly clingy (read: whingey) this morning, so while she has her nap I am just kicking back sneaking in some 'me' time.
As an aside, years ago I added some coffee cup rings to a project I was working on with a cafe/coffee theme, but the client thought it 'devalued the product' so I had to remove them. I am just not good at 'clean' and simple!! That's the beauty of this little place…I can 'devalue my product' as much as I want!
Ahhhh!! The silence is broken! 'Me time' over…