February 12th, 2006 by Susannah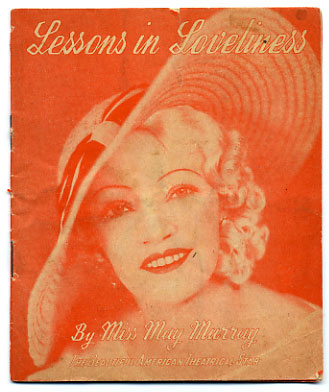 "An absorbing article from the pen and experience of Miss May Murray, the famous American dancer and theatrical star."
When I found this little booklet at an antique store I couldn't resist. It's a truly fascinating step back in time. I've gathered a bit of a collection of vintage woman's magazines and journals so this fitted in quite nicely to that genre. Within the bright orange printed pages Miss Murray gives us many tips and tricks on how to stay….well simply 'lovely'!
Miss Murray tells us that 'grey hairs are the enemies of youth', that you can 'overcome quite a number of defects in the shape of your face with the clever use of rouge' and that 'you could win the man you love by simply understanding certain peculiarities of male psychology' (apparently one such peculiarity being their desire for a woman with 'glorious hair'!). She also explains that lovely lips can be yours if you 'practise blowing out a candle…to firm and mould them' and tells how not to 'mar your personal daintiness' by using a 'deodorant lotion'.
Sagging neck? No problems. '…slap the under chin with the backs of your hands until the flesh really tingles.' Apparently 'this greatly braces up tired tissues and prevents that scraggy neck which gives one such a haggard appearance.' And you should 'never be too tired to do this slapping night and morning.' Also included are a clothes colour chart, list of four complicated weight-reducing exercises and detailed notes on how to apply correct make-up.
This little booklet is an advertising brochure for Dearborn, who manufactured 'refined toilet essentials' used and 'recommended by the worlds most famous Theatrical Stars'. According to the brochure they manufactured 'scientific Toilet Preparations…designed by experts for the universal use of refined womanhood' that were 'guaranteed harmless'. Seemingly their most fabulous product was 'Mercolized Wax' a face cream containing mercury!! Oh how I would love to slather mercury all over my face just like Miss Gladys Monicrieff, Princess of Pless, Dame Clara Butt, Miss Hetty King and all those other 'wonderful women and beautiful girls' who used and recommended it that are listed inside this booklet. It sounds delightful!
It sure is hard work being a girl!