November 11th, 2009 by Susannah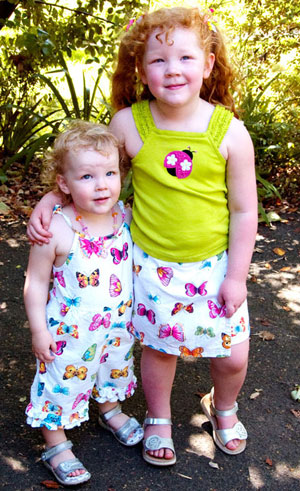 How are fellow Melbournians surviving the heat? It's just been too hideously hot to do anything, let alone take photos of all my thrifted goodies. So here's a photo of my two treasures taken last Sunday (Caitlin wearing thrifted summer overalls and Eloise in a matching thrifted skirt – not bad for $7 all up!). I had good intentions and I did attempt to photograph some lovely handbags I've scored lately, but failed miserably! I'll save that for another day.
I'm rather pleased with myself. This makes eleven posts in eleven days. That's a record for me and it proves I can do it. It's especially good considering how busy things are getting around here with Christmas fast approaching. The party season certainly has arrived already in these parts! Not to mention the crazy work deadlines, school orientation sessions and dance concert rehearsals. Nuts!
And now it seems the heat has me so confuzzled I think it's Thursday and it's only Wednesday. Thank goodness it's only Wednesday. I have too much to do this week! Maybe Thrifty Thursday will go ahead afterall…