November 24th, 2009 by Susannah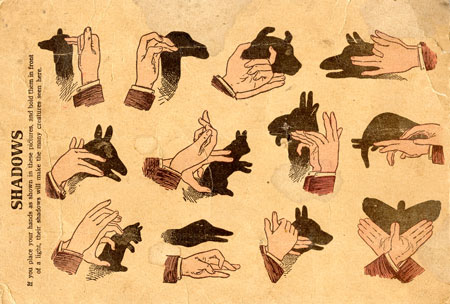 We lost power on the weekend. At about 1am loud buzzing and zapping noises, big orange glow, sparks flying out where the street wires meet our house. Scary! Caitlin woke up terrified as she has developed a fear of storms and thought it was thunder (Even went to bed tonight still saying 'no thunder?' poor poppet). So by candlelight at 1am on Sunday morning I was making some of these hand shadow puppets on the wall complete with silly voices. She seemed to appreciate it, and it even got her giggling her adorable almost two year old hearty chuckle.
This old card is just smaller than A4 and has no details on it other than shown.
If you place your hands as shown in these pictures, and hold them in front of a light, their shadows will make the many creatures shown here.