November 29th, 2009 by Susannah
…but it's the closest weekend to the 1st of December and two little girls (and one big girl!) couldn't wait any longer!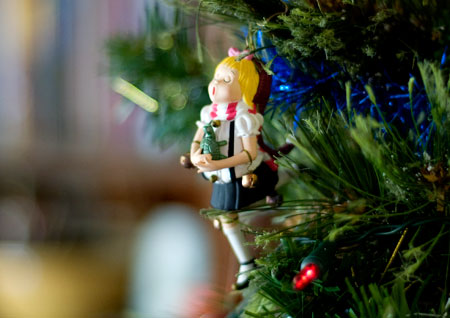 I bought the 'Eloise & Skipperdee Go Caroling' ornament pictured above the year my Eloise was born. It's become one of our favourites! (released in 2004 as part of the Heirloom ornament collection by Carlton Cards)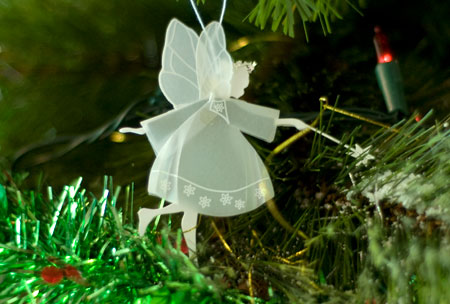 This delicate tree ornament was given to me by my mother inlaw last year. It's gorgeous and made out of translucent papers. It's one of a pair of 'Dancing Fairies' designed Danish designer Jette Frölich.
We don't do a colour theme. Our tree is full of ornaments we've collected over the years including a couple from my childhood. Lots of surprises hidden in the branches that the girls love finding. They buy one new ornament each year to add to the tree. This year in typical almost five year old fashion, Eloise chose this one. 'Don't mess with the dress' (you'll get it if you've seen the movie haha).
Almost December. So exciting!