May 28th, 2007 by Susannah
Friday night was the great Blogetogethertwo organised again by the lovely Nichola and Justine and held at Amite (thanks Jenny!). I had my packages wrapped and ready just in time. It was a fantastic evening with good company — 12 crafty blogging gals. Conversation flowed freely and it was quite a relaxed atmosphere (after the anxiety of sharing gifts subsided that is!). I can't wait to do it again. It would be fantastic to meet up on a more regular basis. So nice to talk in 'real life' with people who understand the blogging community (or even know it exists!) and so inspiring to see what everyone is working on.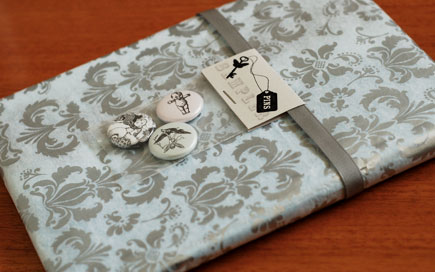 Below is a peek at the bounty! I will cheat again and add a link to Nichola's Flickr set. Have a look to see more details of each gorgeous gift. Such an amazing array of talent and variety of gifts. It was so much fun!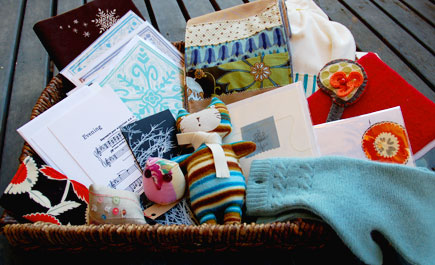 Please check out their blogs: One Girl Designwrks (gorgeous soft cosy woolen mittens and one of her beautiful cards that I have been eyeing off on Etsy!); Melly and Me (stunning lino print cards and lovely cat softie who has mysteriously vanished from my studio already! Hmmm!); Assemblage (Beautiful Gocco printed cards. Very inspiring Kirsten…the first I had seen in 'real life' and I am yet to try mine!!); Jelly Baby Blog (Scrummy hand felted journal cover with gorgeous stitching on the inside covers.); Acoustich (super soft beautiful hot water bottle cover with matching yellow bottle! I love it!); One Red Robin (Stunning scarf and cute baby Chibi pattern!); Theoretic Gal (Lovely soft stitched journal cover. Armani offcuts so I am told!); Michelle Giacobello (Lovely pin cushion complete with beautiful little pins made from clever shrinky stuff!); Little Mysteries (sweet little owl made with beautiful vintage fabric); Nikki-Shell (Amazing keyring. Beautiful combination of textures and colours.); 62Cherry (Gorgeous needlebook and matching giftcard). PHEW! How lucky am I?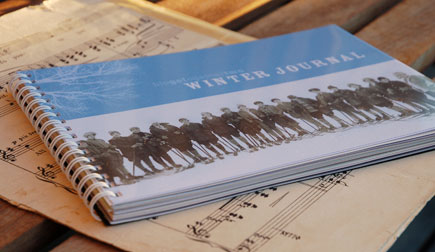 My gift was a 'Winter Journal' made using various paper stocks. I also added a few envelopes, filing cards and shipping tags to the mix, inspired by my lovely friends at Journaux (Anne and Coralee are you reading this?!). Every few pages included some winter inspired imagery. I am really enjoying my image collecting addiction at the moment and wanted some way of incorporating it into my gift. I get really passionate about collecting to a theme so I had fun gathering wintery images — vintage photos and illustrations, old postcards, ephemera and line art. I especially loved the front cover image of the 1920s ski girls. Somehow it seemed just perfect for our Blog meet.
I sourced most of the paper at Pedigree Paper, the K.W.Doggett retail showroom in Preston where I was seduced by rows of shimmery 'winter wonderland' appropriate papers. This place is amazing. I love it. In the same way a sewer loves fabric shops this is a paper hoarders dream. Shelf after shelf of delicious top quality paper and card stock. Great value pick-n-mix boxes, $5 offcut bags and piles of matching envelopes.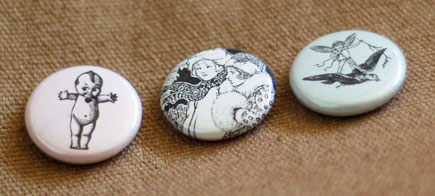 I also made a set of three pin back buttons with my new badge maker machine! I used shimmery paper stock in subtle pastel pink, blue and white. This is sooooo addictive and fun. I think it's my childhood dream realised!!
Note: I am chasing a rather nasty deadline this week and I owe a few emails from the past few days…hang in there I will reply…I am procrastinating because I want to answer your emails properly!