April 29th, 2008 by Susannah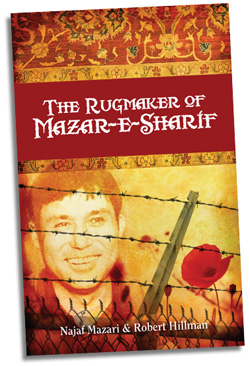 Last week I had the pleasure of attending a book launch for 'The Rugmaker of Mazar-e-Sharif', the compelling story of Najaf Mazari, who fled Afghanistan in 2000. He is now settled in Melbourne, where he owns a rug shop selling beautiful traditional Afghan rugs.
I had the honour of working on the cover and text for this project, and it was lovely to finally meet those involved face to face including Najaf himself, Robert Hillman and the publishers from Insight Publications (hello Iris and Cathi!).
It is such an emotional and beautifully told true story. One of the things that struck close to my heart is that Najaf is around my age, and I could not imagine having lived through what he has been through. The thought alone of him being separated from his wife and daughter for 6 years is incomprehensible. It certainly puts things in perspective.
From the cover blurb: 'A poignant and powerful, yet often humorous, story of suffering, injustice and survival that explores the resilience of the human spirit. Najaf's memoir gives a rare insight into what compels people to leave their homes, families and histories behind in search of peace and security for themselves and their children.'
An extract from the book was published in the Weekend Australian Magazine, March 29. You can read it —> here. You can also hear Najaf Mazari and Robert Hillman on ABC radio —> here.
For more information please visit:
Insight Publications
Afghan Traditional Rugs – Melbourne
Mazar Development Fund
Asylum Seeker Resource Centre