September 7th, 2006 by Susannah
Hello there! Happy Spring! I have let things slip here much to my distress. I've been working like a crazy person, suffering one toddler bug after another and just generally struggling to keep on top of everything. But here I am, back where I belong!
This month I have taken on the $99 Thrift Challenge being run by Apron Thrift Girl. I must say it's already day 6 and although I have bought a few bits and bobs I haven't really struck gold yet. I hope to have better luck as the month wears on so stay tuned. Any excuse to do a bit of second hand shopping!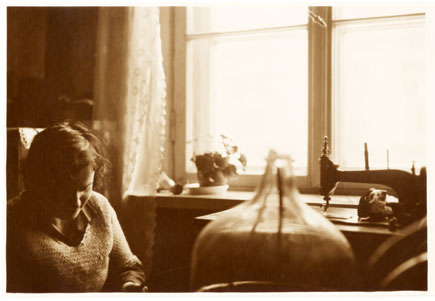 I did find this photo in one of my favourite haunts on Monday. I was on my way home from a handover meeting after pulling an all-nighter and I felt like I deserved a little reward (I am way too old to be working through the night anymore! Erghh!). Flipping through boxes of old postcards and photos this image just stood out amongst the awkward poses and stiff expressions. It's so candid and natural. Quite an unusual composition for it's time. Unfortunately it's unmarked. I wonder if someone clever could date it by the style of sewing machine? I am not sure what that thing is in the foreground on the right. Any guesses?
It was lovely to come back from holidays last month and find so many lovely postcards waiting in my mailbox. They were all so different. Lots of inspiration and varied techniques! Click to view: nikki-shell {postcard:blog}, pyglet whispers {postcard:blog}, Tiny Happy {postcard:blog}, Natasha Fialkov {postcard:blog}, MissyMuh {postcard:blog}, Applehead {postcard:blog}, Tiff Fendick {postcard}, Phantomcrimes {postcard:blog}, Maggie Grace Creates {postcard:blog}, Annette Sheaffer {postcard}, Natalie Willis {postcard}. You can also see more —->here