November 20th, 2009 by Susannah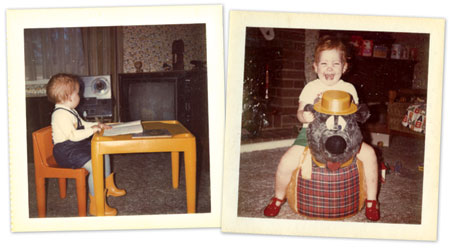 Left: Me at 21months (1975) watching Here's Humphrey on the television whilst getting some important 'work' done in my orange gumboots.
Right: Christmas Day 1975 (I turned 2 the day before). Loving the red mary janes.
The theme seems to be shoes and Humphrey B. Bear! I actually saw a sit on Humphrey like that in a local Antique shop a little while back…I was tempted purely from a nostalgic perspective and the idea of a 'copy' photo setup with Caitlin appealed….then I slapped myself and realised I really had nowhere to put a huge 3o year old stuffed toy (I am sure Rohan was very relieved)! It's funny looking at these old polaroids, especially now that Caitlin is exactly the same age. Spookily Eloise asked to watch Humphrey earlier.
Humphrey was also in the news as recently as yesterday. Poor old Humphrey, oh how I loved you, it really didn't matter that you were mute, never wore pants and when you went to sleep or played hide and seek you had to put your hands over your eyes because they would not close….theme song anyone? Altogether now…
What a funny old fellow is Humphrey,
Humphrey the fun loving bear!