September 27th, 2006 by Susannah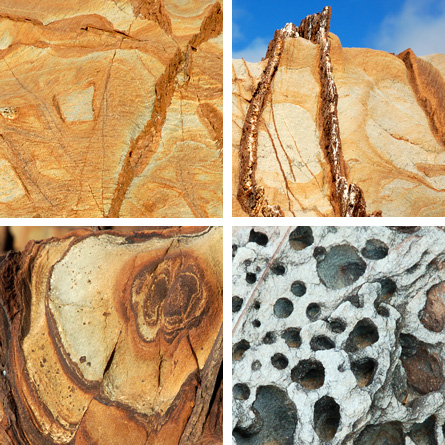 We recently got back from a family holiday in Tathra on the NSW South Coast (another reason things have been a little quiet around here!). We had a brilliant time and after the first couple of cloudy days the weather picked up and it got quite warm! Eloise quickly immersed herself into the beach atmosphere making sandcastles every day, chasing seagulls and paddling in the ocean (read/see more about her adventures here). It's such a beautiful part of the country. Lush green hills, amazing beaches, National Parks and bushwalks and lots of cheese tasting!!! I love it at this time of year, not too cold, not too hot and lovely and quiet!
One afternoon Rohan and I went exploring a tiny portion of the Mimosa Rocks National Park. I took the photos above near Bithray Inlet (below). They had the most amazing patterns and textures.