October 27th, 2006 by Susannah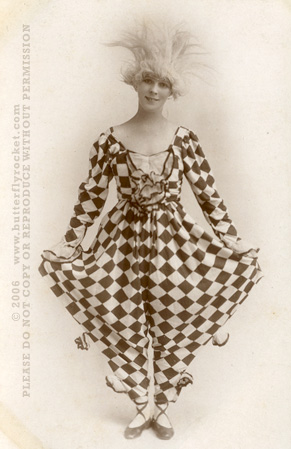 Featured Gem 9
Real Photo Postcard
'Clowning Around'
Date: Unspecified
People: Unidentified
Studio: Unidentified
Postcard Back: Blank

Notes: Clown/Pierrot and carnival costumes are another favourite theme of mine, so I was excited to find this wonderful 'gem' whilst scouring a toy fair with my sister. I know very little about the image as there are absolutely no identifying markings! It appears to have been kept safely in an album for many years (yellowing in the bottom left). It is in lovely condition!

I do love the detail of this costume and the pose is perfect.
Just check out that wig!!