January 18th, 2007 by Susannah
2007 already! We had a relaxing break at my folks place in the Blue Mountains. It was the most wonderful Christmas and relaxed New Year. The 1000km road trip up the Hume in a day was actually lots of fun. Eloise travels really well — animal spotting, crazy loud singing, laughs and a little bit of sleep thrown in. Dan Zanes was definitely the soundtrack to this holiday. Eloise has taken a particular shine to 'Malti' (demanding she wear her sunnies to sing it), 'Sidewalks of New York', and 'Pay Me My Money Down'…sounds funny hearing such a little one singing these but she sings them with great passion and conviction! Christmas morning was lovely with a two year old, such pure joy and such appreciation for every single present opened. Many nights were spent cruising the local Christmas lights. Lots of ooooing and ahhhing.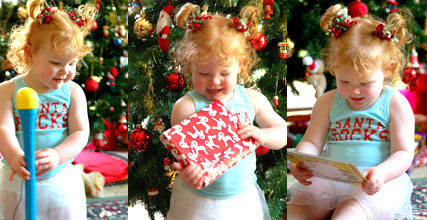 Santa was kind to me this year. I now have a truckload of new books (which I will post more on later) and… I now have a sewing machine!!! It's been a while since I put my foot to pedal…so watch out world! Lets see if I have the patience…I was never the world's most patient sewer!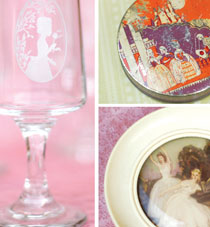 This year has already been a lot of fun on the thrifting front. Here's a little taste of my favourite finds so far (click image for larger view)— five sherry/port(?) glasses featuring a silhouette of a lady blowing a dandelion; an old sweet tin; three circular Bakelite frames. I've also been lucky with a lot of fantastic clothes for Eloise including this Lilly Pulitzer shift dress covered in bright pink unicorns (for all of $3 mind you!).
On holiday I discovered an antique shop with a leaning toward ephemera and collectibles. You can bet that will become a regular haunt on future visits North! I picked up a swag of old family snapshots that will be great inspiration for some themed collages. The 'Plum Pudding' shot was very timely. On the back it says "The Plumpud in all it's Glory. It did not stay like this for long". Mmmm plum pudding. I always get a little twinge of sadness when I see so many family photos tossed away…someone's memories, special moments, key life events…

Before I forget, a big thank you to all who took part in the Christmas postcard swap organised by Nikki-Shell. These are always such fun. I have been a little bit slack with my thanks as most of the cards came while I was on holiday and I am still trying to catch up! More soon…