February 9th, 2007 by Susannah
I'm way too busy to blog. Why? Because I am making fifteen gifts to swap with fifteen arty crafty blogging gals I have never met. With just over a week until the great 'blogetogether' I am getting more and more anxious. Actually I am feeling a little dizzy about it!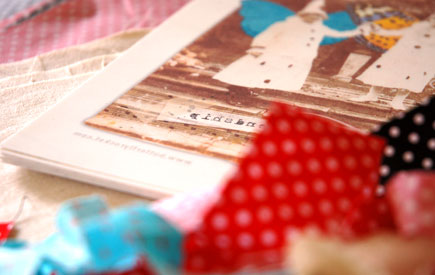 The pressure is mounting as previews of what's in store are leaked – including here, here, here, here, here and here. Oh my!! My little gift involves a bit of sewing. Sewing *gasp*…I have not sewn anything in years. What was I thinking? Many of these bloggers are quite proficient sewers (obviously!). Nothing like jumping in the deep end. It took me a while to even figure out how to thread the darn machine! So please lovely kind hearted bloggers don't look TOO closely!! No exposed seams, no zippers and no buttons…phew. Honestly though, I am really enjoying it!
Also sent off this week was my mini swap package. Poor little Finn and Violet will get to sample some of my novice sewing…but I think they'll enjoy their goodies enough not to notice the crooked seams! I will post pictures when they receive their parcel! This was so much fun to put together.
And to finish up, a little February thrifting…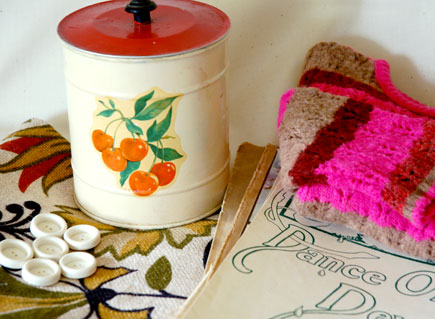 Earthy floral screen printed linen, chunky vintage buttons, old tin kitchen canister with red lid and cherry decal, as new Oilily woollen jumper for Eloise ($2.99!!) and a stack of sheet music with enchanting titles like 'Dance of the Dewdrops' and 'Fairy Whispers'.
I just realised I missed my first 'blogiversary' too. I may not be the most prolific/consistent poster but I am pretty chuffed I have kept my two blogs up for over 12 months!!