Wednesday, February 28th, 2007 by Susannah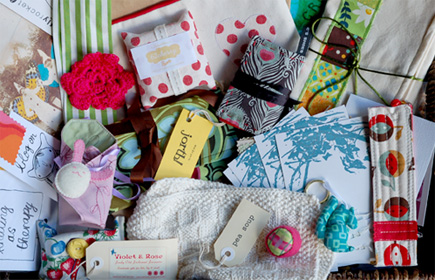 It has been just over a week since I met up with some clever crafty blogging gals at the blog meet organised expertly by the lovely Justine and Nichola. I have been itching to write about it but unfortunately I have been chasing my tail for the past fortnight with a hideously boring job (apologies Jay but I know you agree!!) that is lasting FOREVER and sucking away every spare minute of my time.
I was so apprehensive leading up to the event, but very pleased with myself that I managed to finish off my 15 gifts (magazine tote bags) without having to pull the usual 'all nighter' at the end. Meeting people face to face from 'blogland' for the first time was a very overwhelming and unusual experience, especially when it involved so many crafty gals whose work you've admired and blogs you've read from afar for quite some time. We had a great afternoon swapping pressies, giving our purses a workout at Amitie and feasting on homemade goodies. It was just impossible in the two hours to chat to everybody properly and so much I wanted to say to people and didn't (why does that always happen?). It was a pleasure to be involved so thank you everyone!!
And, just look at all the gorgeous goodies above — all those rich colours and amazing prints — lovingly handcrafted purses, bookmarks, cards, soaps, needle roll, mini canvas, delicious cookies and nougat (long gone!!), headband (love the stripes!), needle books, face cloth and more! Mmmmmm

Justine has posted more pics (including links to everyones blogs) —> here