November 4th, 2009 by Susannah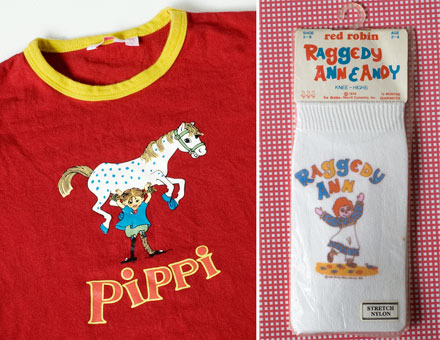 I must say, it's no secret I adore children's fictional characters. I have many many favourites. I also like collecting associated licensed product.
How excellent is this Pippi Longstocking T-shirt? Eloise is going to love it…especially when we start reading the book. And the red robbin Raggedy Ann & Andy socks? They are dated 1978 and they look awfully familiar. I had a wave of nostalgia when I saw them and I couldn't leave them there (and for 50c why not?). I remember wearing this style of knee high character printed nylon sock as a kid….I know I definitely had some Holly Hobbie ones. What shoes does one wear with knee high socks? Knowing the era most likely sandals! Nice. Knee high socks with sandals. (I think I might go scour the old photo albums! Hopefully it was a nice pair of Mary Janes instead!)
I also found these sewing patterns. Look, it includes a Holly Hobbie bonnet! The Raggedy Ann one also includes the doll pattern…..and both are Eloise's size. Perfect! Ha! I might even sew yet!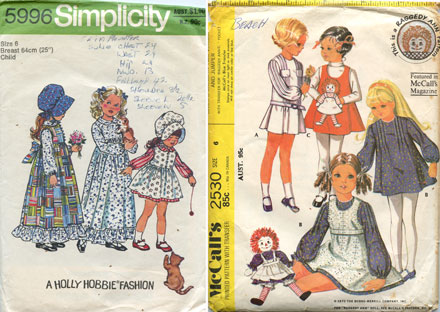 I've been spending way too much time op-shopping over the past few months. By default it's become a great way for me to destress. Strange! Please tell me I am not the only one that finds it therapeutic? I live within five minutes of our local Savers and St Vinnies. It is dangerous. Savers is open late two nights a week…what a treat to pop out after the kids are tucked up in bed!
More opshopped goodness tomorrow when I kickstart Thrifty Thursday!