November 5th, 2009 by Susannah
I'll be honest and admit I didn't get around to photographing the goodies I was intending to blog about today…I was having too much fun out the back enjoying the sunshine with my girls! I did manage to take a quick snap of this beauty though….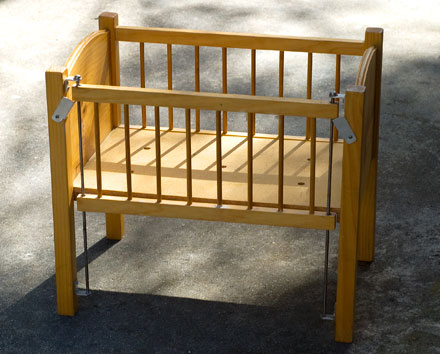 I picked up this wooden dolls cot last week, complete with drop down side. It really is quite lovely and has a lot of potential. It's a decent size, about 60cm long and 36cm wide and nice and high. Sometime between now and January 25th I plan to sand it back, paint it and make coordinated bedlinen as a special present for Caitlin's 2nd birthday. She is hitting that 'play house all day' stage and loves rocking her babies to sleep and covering them with layers of blankets and giving them little friends to cuddle. It's perfect!
I'm always rifling through the bookshelves. I always make a beeline for the books. I love discovering new (to me) illustrators, authors and wonderful stories to fire up the imagination and share with my girls. I always wonder which will become firm favourites. Lately I have gathered these wonderful 1960's illustrated books. They're all ex library books…and as long as they're all intact I don't mind. As you can see I do gravitate towards that aesthetic, so these will have many uses on my bookshelf (and the girls might enjoy them too!).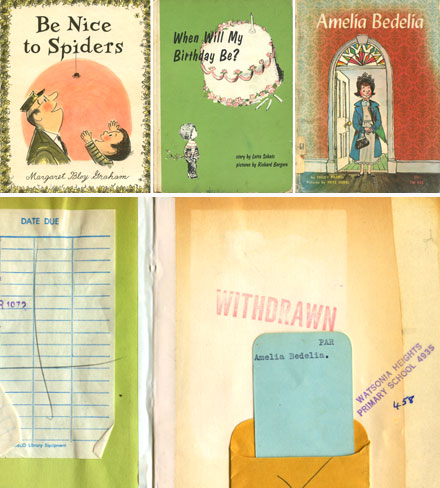 Be Nice to Spiders – Margaret Bloy Graham (1967, World's Work), When Will My Birthday Be? – by Letta Shatz, pictures by Richard Bergere (1962 World's Work), Amelia Bedelia – by Peggy Parish, Pictures by Fritz Siebel (1970,6th Printing Scholastic)
I've also been finding a lot of 'garden/nature' inspired books lately. Very appropriate given the gorgeous warmer weather we've been having, Spring is definitely in the air! These are three of my favourites.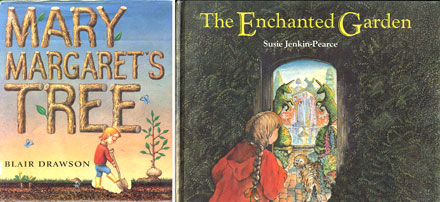 Mary Margaret's Tree – Blair Drawson (Orchard Books 1996), The Enchanted Garden – Susie Jenkin Pearce (Oxford University Press 1988), One Hungry Spider – Jeannie Baker (Andre Deutsch 1982)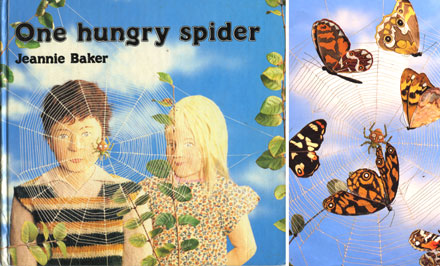 I have always adored Jeannie Baker's work. Her three dimensional worlds are so magical to look at and even more incredible to see up close and in person. After seeing an exhibition of her work, she became a big inspiration to me throughout my school years. This was when I first started to explore various forms of collage. This is one book I didn't already have, so I was pretty excited to find it! Eloise is particularly taken by it. She's entering the 'lets use the bug catcher and catch everything that moves and keep it as a pet' phase of life and spiders, butterflies and bugs of all descriptions are of particular interest!